ZLA pals, I've written a quick tutorial for you to get familiar with using the new standalone AFV client with VRC, vSTARS, and vERAM. Eventually the new codec will be integrated fully into those clients, but in the meantime, you can follow the steps below to get started.
The full AFV Manual can be
found here.
Too Long; Won't Read:
Open your radar client
Set vis centers (VRC ONLY)
Connect to network
Prime frequency - PRIME ONLY, DO NOT CONFIGURE OTHER AUDIO OPTIONS
Open the AFV Standalone Client
Connect
Optionally, click "XC" to enable cross coupling for large coverage areas
How Do I Configure My Audio?
Step 0: Check Your Settings
It's important you configure the settings panel before connecting to the network. It should look familiar to you as it's quite similar to the existing settings panels in our clients. You can find details on the settings in the
AFV Manual
section 3.1.3.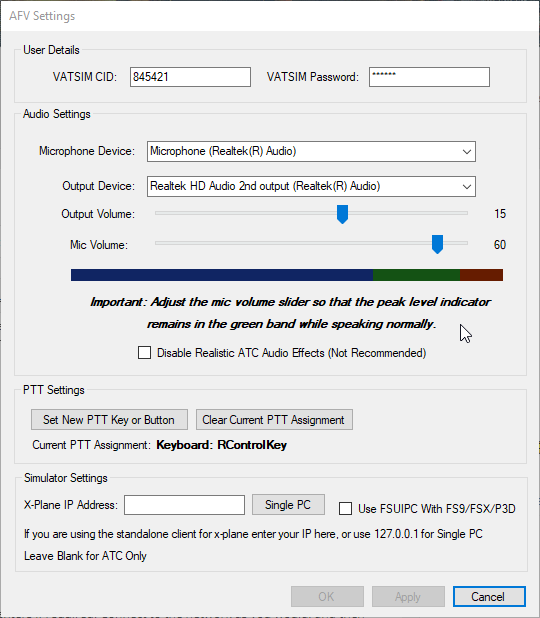 Step 1: Connect to Network
The easy and familiar part, open VRC/vSTARS/vEARM normally and set your vis centers if required. Connect to the network as you would, and then Prime, and only Prime, your frequency:
VRC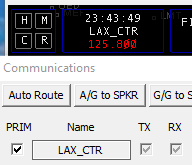 vSTARS

vERAM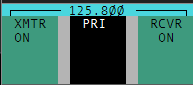 Step 2: Open AFV and Connect
Let's say I'm logging on as LAX_CTR. We have preconfigured the frequency panel for the standalone client, and because it detects a configured position, it will automatically set your transmission and receive antenna sites.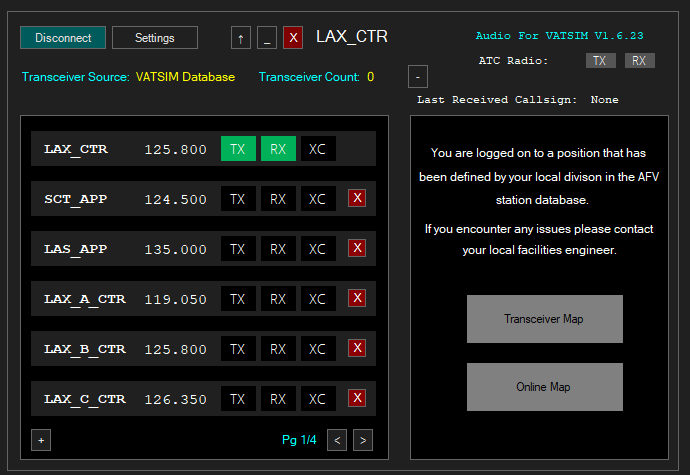 Step 3: Cross Couple
Large facilities, like SOCAL or LA Center, should depress the "XC" Button. The new codec takes range into account. An airplane on the ground and LAX will not hear an airplane on the ground as LAS, even if they are both on 125.80 because they are too far away from each other. This is realistic and expected. Because VATSIM is what it is, you can cross-couple your frequency so airplanes far away from each other can still hear one another, and thus you won't be subject to two airplanes transmitting at the same time.

How Do I Relieve Another Controller?
Step 1: Follow the previous steps
Use your relief (e.g. LAX_1_CTR; LAX_1_TWR) callsign instead, but follow all the same steps to connect. As the position is "not configured," AFV will place a transmitter at your vis center.

Step 2: Add a Callsign
At the bottom of the frequency section, called the VCCS, there is a small + button. Click it and add the callsign you will be monitoring or assuming. For example, SCT_1_APP should type, "SCT_APP." LAX_M_TWR should type "LAX_TWR."

Step 3: Cross Couple
Deselect the reliever/instructor callsign and select TX/RX and XC on the position you are monitoring or taking over for.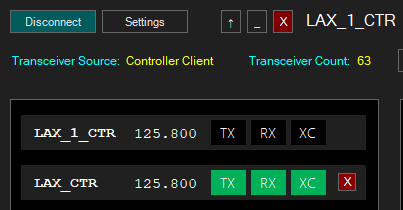 Now in video format:
https://www.youtube.com/watch?v=Ry8aBVbTdrM
Question/Comments/Concerns?