I've been working on a new trip for the flying club. Time to be determined, but probably a Friday night or saturday. I'm thinking for aircraft we can go with BE-18s and DC-3s (and maybe a Connie for JB...) The route I've worked up is about 100 miles and takes you really close to the LA Bravo so Flight following might be in line, but the course im looking at keeps you outside of the bravo at all times.
Depart Riverside to the West to overfly Chino at 3,000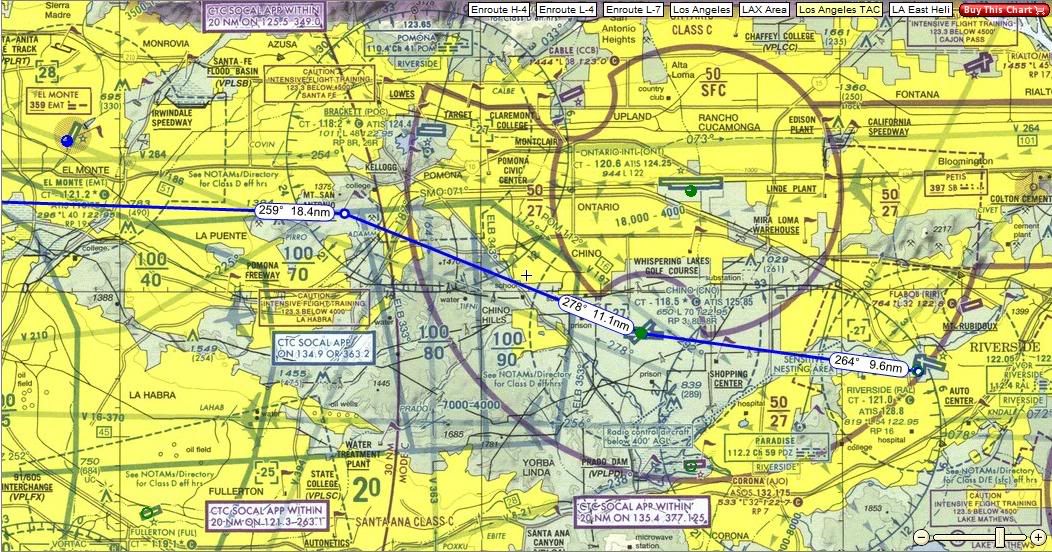 Then we proceed over Mt. San Antonio College (My college) where we begin a descent to 2,000 to keep us below the Bravo airspace.
After Mt SAC we fly toward Parker Center in LA and then onwards to the Coliseum. Here we need to stay at 2,000 or below or we run the risk of gettng in the way of the charted visual approaches into LAX.
After the fun of dodging the Big Jets, we can proceed north of SMO and start a climb up to 4,500 to remain under the Bravo we continue on to Pacific Palisades and up the coast to Point Dume. Where we take a roughly 300 Heading towards CMA.
Passing CMA we descend to 2,000 over there Class D airspace to enter the pattern at SZP.
So, who would be intrested?